Bible Study  Sunday 9:45 AM  Worship Service  Sunday 11:00 AM
Welcome to the website of Seeley Lake Baptist Church in Seeley Lake, Montana. This congregation began in 1954, and ministers to people of all ages in the Seeley Lake and Swan Valley community areas. We love God as a family of faith – and we seek to share His love with others so they can experience a fulfilling life of hope.
Watch all of our latest sermons and teachings online. Click the button below to visit our video archive.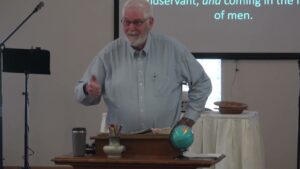 Philippians 2:5 says "Let this mind be in you…" Whose mind is in you and how does that look in 2023 and beyond. What does it mean to work out our own salvation?
The text is Philippians 2:12-17
Preacher — Pastor Jon
Watch Online